THE WEBLOG: "NOW THAT I'M FAMOUS"
|
Why Blog? | RSS Feed
Today!
Today sees the release of "The Corpse Wore Pasties" in bookstores nationwide. Get yours today.
For your reading pleasure
Ah, how long has it been since this web presence has been active? To make up for it, jvg.com presents to you an entire novel for your reading pleasure...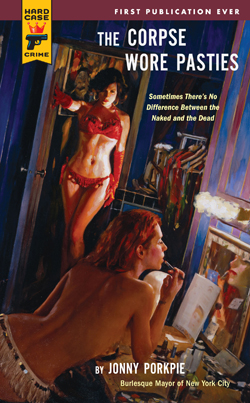 Jonny Porkpie's Lurid Pulp novel "The Corpse Wore Pasties", available 11/24/09 from Hard Case Crime. The first reviews are already in:
Publishers Weekly: "The self-styled burlesque mayor of New York City makes himself the hero of his entertaining hard-boiled debut... Much of the fun lies in Porkpie's witty and telling observations of life in the raunchy burlesque world, and the tone is more playful than pornographic despite plentiful references to sexual activity. Readers will enjoy the twists and action and hope for future Porkpie investigations." Full review.
Booklist says "Porkpie's style is diligently tongue in cheek, and it works. Fans of hard-boiled crime will enjoy this romp, and in an increasingly coarse popular culture, the inside look at burlesque seems, well, almost wholesome." Full review.
Library Journal says"The rapport required on stage transfers effortlessly to the page in this debut mystery...Don't give up your night job, Jonny; it's too good of a backdrop for the sequels that will surely come to nestle comfortably between Gypsy Rose Lee's classic 1941 The G-string Murders and Kinky Friedman's mysteries." Full Review
Vince Keenan, who won an advance copy, writes on his blog: "It's a lark, and a fun one, with Mr. Porkpie getting into and out of silly, sexy trouble. But not too sexy; Mr. Porkpie is happily married to burlesque performer Nasty Canasta - one of the cover models, FYI - and their relationship is the best thing in the book." Full review.
Pinchbottom's LURID PULP, a combination Book Release party/interactive murder mystery/theatrical extravaganza starring Nasty Canasta, Clams Casino, Dirty Martini, Gigi La Femme, Jo Boobs, Madame Rosebud -- as well as the author himself -- will premiere Saturday November 21 @ 8:00pm at 45 Bleecker in Manhattan. Encore presentation Saturday November 28 @ 8:00pm.
Book of Ages: Still in print, apparently!
Taped in January, The Book of Ages interview on CBS Sunday morning aired this morning! Article. My goodness, we'll wring some residuals out of this project yet!
Also, for those who haven't been following the burlesque world, I'm running for mayor of New York.
My day of birth: an open invitation
Two years back, I posted the following:In celebration of my birthday: a glance back to December 2002, when I posted these documents relating to my birth, as well as notable events on this website from birthdays past:
• Documents relating to my birth: March 31, 1974
• JVG: The Comic Strip 29th Birthday
• Blog: March 31, 2003
• JVG: The Comic Strip 10 days before 30th Birthday
• JVG: The Comic Strip 4 days before 30th Birthday
• JVG: The Comic Strip 30th Birthday
• Blog: March 31, 2004
• Fred the Obnoxious Goldfish Birthday Strip
• Intinerary: March 31, 2005 Birthday Plans
• Blog: March 31, 2006
A glance back at a glance back. How reflective. But now, onto the future! For I suspect this coming birthday promises to be either my best or my worst... for me. For others, I have no doubt it shall be enjoyable. For this is the year when an entire show has been created not to celebrate me, or my birth, but to mock me, and my birth. To wit:
And so, I invite you to share in my humiliation as I creep minute-​by-​minute towards the achievement of the tender age of 35, and celebrate with an entire night of celebratory fun, culminating in the ringing in of my actual day of birth, and including the public mockery and no doubt deep embarrassment of none other than yours truly, LLC.
So, please join me at Public Assembly this coming Monday, March 30 starting at 8:00pm for JVG/Porkpie's Birthday Party and show!
Monday, March 30 @ 8:00pm
Public Assembly, 70 North 6th Street, Williamsburg
L train to Bedford Ave (1st stop in Brooklyn)
* I'll arrive at 8:00pm to get the night started with the 2-for-1 happy hour, and pre-show celebration...
* At 9:00pm(ish), I take the stage but keep my clothes on when I host the Kickoff show. After that, I'm off work for the night, and will settle back at the bar with such friends as are in attendance to watch...
* PORK ROAST at 10:00pm. Yes, my lovely wife has decided that the best way to celebrate this milestone of age is with a show in which many of my burlesque friends mock me on stage. I am, to say the least, trepidatious, but if nothing else it should be fun... for everyone except me!
As the press release says: "The burlesque world is but rarely graced with figures of towering talent, matchless intellect, humanitarian instincts and unrestrained charisma; and Jonny Porkpie falls short of greatness in not only these but so very many other ways..."
Sigh.
* Then, at Midnight, we'll drink in MY ACTUAL DAY OF BIRTH with another 2-for-1 birthday happy hour, and will continue drinking until such time as we are bodily ejected from the bar.
Come for the whole night, or just parts thereof -- and if burlesque isn't your thing, please come celebrate with me pre-or-post show! (I was thinking of having a non-show birthday celebration, but then thought: to hell with it, this is how I have fun. So I hope you'll join me in it.)
Cover is usually ten bucks, but since it's my birthday, they're giving my friends a discount: mention my name at the door (Jon, JVG, Porkpie, whatever) and they'll cut that in half -- only $5.
A look back in pen & ink & anger
A panel from JVG: the comic strip from April 3, 2003. Ah, how young and innocent we were.
Now, that milestone of "old" is a mere six weeks away...
Still Off-Broadway, but at a different theater
As you may have heard on other blogs (incidentally, the method by which I myself learned the news), the new off-Broadway home so touted in the below entry was shut the hell down. (Before you ask, no, I don't think it's me causing the venue closings.)
Never fear: Pinchbottom remains Off-Broadway for its Winter Season. The Bleecker Street Theater at 45 Bleecker Street, which stepped in last minute to provide a home for Murder Most Naked in January, will also house So You Think You Can Pinch America's Next Top Bottom in February and Pinchbottom's Greatest Hits: The Pinch Brothers in The Bawdy House in March. All other details -- time, date, lineup, ticket price -- remain the same.
An so, with very little interruption, the incessant show pimping of JVG.com continues!
When Pinchbottom puts a gaggle of gorgeous burlesque performers in a house on a desert island in a bus on the road in a boardroom on a boat at a circus with a dancing bachelor idol apprentice and someone else's wife's nanny's washed-up celebrity chef and Cory and forces them to compete competitively for the title of "Top Most Best Biggest Everything Ever for all time 2009", what will happen? There's only one thing you can be sure of... it's going to be sexy. Buy Tix

Off-Broadway? Sure we are!
I know what you've been thinking. You've been thinking "I've been meaning to go to one of them Pinchy-bottom show that JVG keeps shoving in my face instead of actually updating a website, but I'm-a-gonna wait until it's off-Broadway, and there's a big party involved."
Well, friend, you're in luck. As it so happens, the show moves Off-Broadway on a monthly basis starting on Jan 17, and to celebrate, we're throwing a big Season Opener blowout after the performance. (And, as an added bonus, it's our first all-new show in four months!)
MURDER MOST NAKED (or, the strange affair at Pinchbottom Manor)
Saturday, January 17 @ 10:30pm
followed by the Season Opener party at Midnight
The Zipper Factory Theater
336 West 37th Street, Manhattan
Tix: online or 212-351-3101
There's a body in the library... and what a body! But which of the mysteriously sexy guests at Pinchbottom Manor is the killer? Quirky British detectives Nasty Canasta and Jonny Porkpie are searching for clues in every pair of panties, but they have their work cut out for them -- because in this mystery, every suspect is drop-dead gorgeous.
Would love to see you at the show and afterparty. With the holiday season I've had, I need a good fete, surrounded by friends, well-wishers, and bitter, bitter enemies.
Xmas returns
Before Pinchbottom bursts on to off-Broadway in January, we're closing out 2008 with a more intimate event in the home 'hood. So gather 'round, children of drinking age, and Uncle Pinchy will read you the classic holiday story of HOW THE PINCH STOLE XMAS.
Saturday, December 20 @ 8:00pm
UNION HALL, 702 Union Street, Park Slope, Brooklyn
followed by the Wasabascco Burlesque Holiday Office Party at 10:00pm
Movie reviews from my Mom
"I just saw THE DARK KNIGHT. What the hell was that all about?"
You Only Pinch Twice... a fourth time!
Personally, I liked the latest Bond outing. But the reviews are in, and many seem to feel that "Quantum of Solace" is lacking in two important elements necessary for a 007 flick; humor, and sexy, scantily-clad women.
This is, quite frankly, good for me. Because on Saturday, November 22 at The Zipper Theater in Manhattan, I'm offering just the spy-based entertainment to fill in that gap. Humor, and sexy, scantily-clad women are exactly what's on the bill in the risqué Bond parody YOU ONLY PINCH TWICE.
Nasty Canasta stars as (an unauthorized parody of) James Bond in a show that takes the suave secret agent where (s)he's never been: live on stage, Off-Broadway. With Jonny Porkpie as "Porkfeld" and an all-star cast of henchgals, superspies, and other undercover agents. Also featuring Julie Atlas Muz, Jo Boobs, Tigger, Anita Cookie & Scott Rayow, Clams Casino, Delirium Tremens, GiGi La Femme, and Naughtia Nice and Bastard Keith.
YOU ONLY PINCH TWICE 007 Burlesque
ONE NIGHT ONLY! Saturday, November 22 @ 10:30pm SHARP
The Zipper Factory Theater - 336 West 37th Street, Manhattan
Buy Tickets
Previously...

AND BEFORE THAT...
November 2009 | October 2009 | September 2009 | March 2009 | February 2009 | January 2009 | December 2008 | November 2008 | August 2008 | July 2008 | June 2008 | May 2008 | April 2008 | March 2008 | February 2008 | January 2008 | December 2007 | November 2007 | October 2007 | September 2007 | August 2007 | July 2007 | June 2007 | May 2007 | April 2007 | March 2007 | February 2007 | January 2007 | December 2006 | November 2006 | October 2006 | September 2006 | August 2006 | July 2006 | June 2006 | May 2006 | April 2006 | March 2006 | February 2006 | January 2006 | December 2005 | November 2005 | October 2005 | September 2005 | August 2005 | July 2005 | June 2005 | May 2005 | April 2005 | March 2005 | February 2005 | January 2005 | December 2004 | November 2004 | October 2004 | September 2004 | August 2004 | July 2004 | June 2004 | May 2004 | April 2004 | March 2004 | February 2004 | January 2004 | December 2003 | November 2003 | October 2003 | September 2003 | August 2003 | July 2003 | June 2003 | May 2003 | April 2003 | March 2003 | February 2003 | January 2003 | December 2002 |
OR, IF YOU PREFER, BY CATEGORY
A Sobering Thought | Comic Strip | Detritus | Dreamlog | Famous Friends | From The Files | Inbox | News Analysis | Now That I'm Famous | NYC | Observed/Overheard | Photos | Press | Production Updates | Quotation Ad Propositum | Reviews & Awards | The Early Years | The Gallivants of Fame | The Perfect Sentence | Today in History | Travels | Works |
Nasty Canasta


Official Burlesque Artist of JVG.com, cheese queen of Coney Island

Jonny Porkpie


Nasty puppeteer and Burlesque Mayor of New York City.